Ideally, daily nutritional needs should be met through healthy eating—but the typical diet does not always supply all the vitamins and minerals a body needs. So even in healthy people, multivitamins and other supplements may help prevent vitamin and mineral deficiencies and they can also provide more nutrients than diet alone, which may help to protect against or manage certain diseases. The following list gives the daily optimum amounts of nutrients that might benefit healthy people.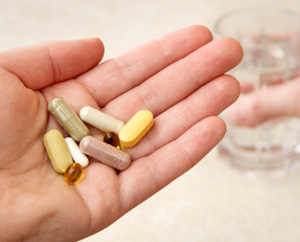 Vitamins
Folic acid (400 mcg)

The FDA-required fortification of grain products may have reduced deficiency in the general US population, but some authorities believe it is not enough to optimally prevent diseases such as heart disease and neural tube defects.
The body's need for folic acid doubles during pregnancy. Supplementation prior to, and shortly after, conception is adequate and effective.

Iodine (150 mcg)

A common deficiency in developing countries, iodine is more abundant in Western diets. Most people get enough unless they avoid iodized salt, seafood, and sea vegetables.
People with thyroid diseases should check with their doctor before using iodine supplements.

Vitamin A (5,000 IU; as natural beta-carotene for nonsmokers)

The synthetic beta-carotene in most multivitamins clearly does not prevent cancer and may increase the risk of lung cancer in smokers. In contrast, however, natural beta-carotene and several other carotenoids may help prevent certain diseases, including some cancers, although its safety for smokers has not been demonstrated.
Due to concerns about birth defects and bone loss, people should not take over 10,000 IU of supplemental vitamin A in the form of retinol without consulting a doctor.

B Vitamins

The typical Western diet may provide thiamine (B1; 1.5 mg), riboflavin (B2; 1.7 mg), and niacin (B3; 20 mg) in adequate amounts as they are added to white flour products and other foods that have been depleted of those vitamins.
Biotin (300 mcg): This vitamin is produced by intestinal bacteria in amounts that, along with the typical diet, provide enough to prevent deficiency in healthy people.
Pyridoxine (B6; 10 mg): Some deficiency may exist in as many of 25% of people living in Western societies, and may be most common in the elderly.
Pantothenic acid (B5; 10 mg): This vitamin appears to be in short supply in the typical diet though its role in disease prevention is unknown.
Vitamin B12 (5–100 mcg): Vitamin B12–deficiency is more common among the elderly than in healthy young people, except for vegans (vegetarians who avoid dairy and eggs) and in people who take acid-blocking drugs or antacids for long periods of time.
Some people claim to experience improved mood, energy, and/or overall well-being when taking higher-than-RDA amounts of vitamin B1, vitamin B2, vitamin B3, and pantothenic acid, though this has not been demonstrated in research.
Folic acid, B12, and pyridoxine help control homocysteine levels in the blood. Elevated homocysteine levels are associated with several diseases. Studies have shown that supplementing with one or more of these vitamins helps prevent or reverse hardening of the arteries (atherosclerosis) and may reduce bone fractures risk.

Vitamin C (100–200 mg)

Severe deficiency is uncommon in people who consume Western diets, but mild insufficiency is found in 6% of healthy adults and larger numbers of college students and smokers. Some authorities have suggested that optimal intake for disease prevention may be at least 90 to 100 mg per day.
Supplementation with over 200 mg per day of vitamin C by healthy people does not result in higher vitamin C concentrations in the body, and may be no more helpful for preventing disease than smaller amounts.

Vitamin D (400–800 IU)

Vitamin D obtained from the diet and from sunlight exposure can be insufficient, especially in older people and vegans during the winter months. Vitamin D insufficiency is associated with bone loss and fractures in older people and other studies have shown supplementing may reduced bone loss and the risk of falls in older people
Though toxic in very high amounts, up to 2,000 IU per day is considered safe.

Vitamin E (30–400 IU)

Once widely thought to lower risk of heart disease, other trials have negated those findings and even found a small increase in the likelihood of all-cause mortality or heart failure. Therefore, some doctors advise people not to take large amounts of vitamin E (400 IU per day or more). On the other hand, circumstantial evidence suggests that "mixed tocopherols," as opposed to the more widely used alpha-tocopherol form, may be safer and more beneficial for heart-disease prevention.
A reduced risk of prostate cancer in smokers was reported in a double-blind trial with 50 IU per day of vitamin E. However, similar studies have not found vitamin E supplements to protect against other cancers.

Vitamin K (80 mcg): Deficiency severe enough to cause bleeding problems is rare in healthy people. However, low vitamin K in the blood and in the diet has been associated with osteoporosis.
Minerals
Who is more at risk for deficiencies?
People who have lost weight may be deficient in a wide range of vitamins and minerals.
Vegetarians are at risk to become low in protein, vitamin B12, iron, vitamin D, zinc, iodine, riboflavin, calcium, and selenium.
Vegans need the same nutrients as vegetarians, but vegans are more likely than lacto-ovo (dairy-and-egg eating) vegetarians to be low in protein, selenium, and B12.
People eating macrobiotic diet: Deficiencies of vitamin B12, iron, vitamin D and other nutrients have occurred. This diet should be supervised by a dietitian or doctor.
Elderly people living in their own homes are often deficient in vitamin D, vitamin A, vitamin E, calcium, and zinc, and occasionally of vitamin B1 and vitamin B2.
Premenopausal women have been found often to consume low amounts of calcium, iron, vitamin A, and vitamin C.
As natural substances, are supplements safer than drugs?
Nutritional (and also herbal) supplements are not necessarily safer just because they are natural: Some might produce unwanted side effects when a person takes too much, and if you are taking medications, you should always check with your doctor or pharmacist before adding nutritional supplements or herbs to your self-care.