Our Products
We're dedicated to helping our patients live better, more fulfilling lives. Chiropractic care is our main area of focus, but also offer products to help you heal faster.

Innate Choice Omega Sufficiency (Lemon Flavour)
Price: $45.00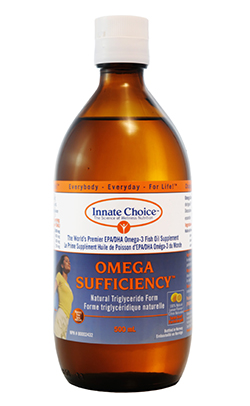 Omega Sufficiency™ is the purest, most natural fish oil available with natural EPA:DHA ratios and NO Artificial Chemical Concentration. Because of this Omega Sufficiency™ is aligned with the human genetic requirements for Omega 3 consumption and thus provides the maximal health and prevention benefits.
Omega Sufficiency™ is the world's premier EPA/DHA omega 3 fish oil. Each teaspoon or 4 capsules provides 720-825 mg of EPA and 480-550 mg of DHA omega 3 essential fatty acids which have been scientifically shown to be a crucial requirement for health and important in the prevention of illnesses such as heart disease, arthritis, ADD, depression, stroke, cancer, diabetes, high blood pressure, obesity, osteoporosis, Crohn's disease, ulcerative colitis, eczema, learning and cognitive development problems, and Alzheimer's.
Omega Sufficiency™ is extracted in a licensed pharmaceutical grade facility from cold water anchovies, herring and sardines that are the purest source of omega 3 fish oil. Our oil is purified in a non-chemical molecular distillation process that removes all trace amounts of heavy metals, PCBs, organochlorides, and organophosphate pesticides resulting in the safest, purest source of EPA/DHA fish oil possible. As the oil is purified it is immediately infused with our natural, proprietary antioxidant blend consisting of rosemary extract, ascorbyl palmitate and natural mixed tocopherols. This process ensures the greatest oxidation protection possible. There simply is not a better, purer source of EPA/DHA omega 3 fatty acids in the world as our third party testing results indicate.

Our extraction process keeps the fish oil in its most natural form possible, this is crucial because human beings are genetically designed to ingest, digest, and absorb EPA and DHA essential fatty acids in the form they are found in nature, not in any concentrated form produced by chemical processing. If science and experience has taught us anything it is that we cannot improve upon nature.
Directions for Use
Amount: 1/2 teaspoon or 2 capsules per 40 lbs/18 kgs of body weight
Adults: (e.g. 160 lb adult 2 tsps or 8 capsules/day: 200 lb adult 2-1/2 tsps or 10 capsules/day)
Children: (e.g. 40 lb child 1/2 tsp or 2 capsules/day: 80 lb child 1 tsp or 4 capsules/day)
Liquid Oil must be refrigerated after opening. SHAKE WELL before EACH use. Capsules do not need to be refrigerated. Store away from direct sunlight.
---
Sisu Vitamin D (180 tablets)
Price: $13.00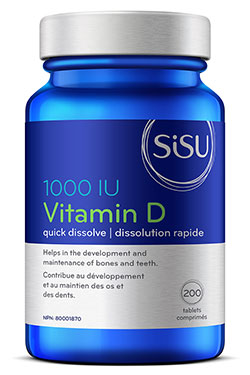 An important factor in the prevention of bone loss in men and women.
Vitamin D is produced naturally when our skin is exposed to strong sunlight. However, in the northern hemisphere this type of natural light is not available during much of the year, therefore Canadians are at a greater risk of deficiency. Other at-risk groups include seniors, people with darker skin, vegans and those on a low protein diet. Health professionals in Canada estimate that increased vitamin D blood levels would reduce incidence of a variety of conditions, including osteoporosis, cardiovascular diseases, multiple sclerosis, pneumonia, and cancer. Adequate levels vitamin D are important for the prevention of many chronic health conditions.
Product Information
One tablet provides 2,500 IU of Vitamin D, the maximum allowed in a Canadian supplement
D3 (cholecalciferol) derived from lanolin from sheep's wool
Vitamin D is essential to calcium absorption and helps support bone density and helps reduce fractures
Vitamin D has been studied for its role in preventing various chronic health conditions and low vitamin D levels have been associated with increased rates of certain cancers
SISU Advantages
Tiny, fast-dissolving tablets that can be chewed, swallowed whole or dissolved under the tongue or in any liquid
Contains no ingredients that are a source of gluten
Tested for guaranteed purity and potency
Good Manufacturing Practices standards
NPN approved
Medicinal ingredient in each tablet:
Vitamin D (Vitamin D3) 25 mcg equivalent to 1,000 IU of vitamin D (cholecalciferol) activity
Non-medicinal ingredients: isomalt, croscarmellose sodium, microcrystalline cellulose, magnesium stearate (vegetable), calcium silicate
Contains no wheat, dairy or peanuts.
---
Sisu Calcium & Magnesium 1:1 (300 capsules)
Price: $25.00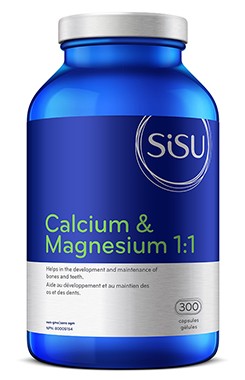 Helps in the development and maintenance of bones and teeth. Calcium intake, when combined with sufficient vitamin D, a healthy diet and regular exercise, may reduce the risk of developing osteoporosis.
Calcium is the most abundant mineral in the human body and it is an essential factor in maintaining strong bones and teeth. Daily stress and pollution deplete our calcium levels and most diets do not provide us with adequate calcium. This may be part of the reason that one in four women as well as one in eight men over the age of 50 develop osteoporosis, leading to fractures and often permanent disability. SISU Calcium & Magnesium 1:1 is a convenient way to supplement your diet with those essential nutrients and vitamin D to prevent bone loss and improve bone density.
Product Information

Low-potency formula of calcium citrate, magnesium oxide, and vitamin D3
Suitable for people who are not at high risk of bone loss and who need a lower amount of those nutrients to supplement a healthy diet; also suitable for people who are taking calcium and magnesium in other supplements (multivitamins, minerals)
Calcium citrate is better absorbed in post-menopausal women
Magnesium improves vitamin D activity and decreases the risk of developing osteoporosis
The extra magnesium can be also beneficial for diabetics and for muscle relaxation, headache or migraine prevention and relief of constipation
Vitamin D is essential to calcium absorption and helps support bone density and reduce fractures
SISU Advantages
Easy-to-swallow capsule
Shellfish free calcium citrate
Contains no ingredients that are a source of gluten
Good Manufacturing Practices standards
Tested for guaranteed purity and potency
NPN approved
Medicinal Ingredients:
Calcium (Calcium citrate) 100 mg
Magnesium (Magnesium oxide) 100 mg
Vitamin D (Vitamin D3) 2.5 mcg equivalent to 1,000 IU of vitamin D (cholecalciferol) activity
Non-medicinal ingredients: magnesium stearate (vegetable)
Capsule shell: gelatin
Contains no dairy, wheat or artificial preservatives.
---
Purica Recovery Extra Strength (180 capsules)
Price: $35.00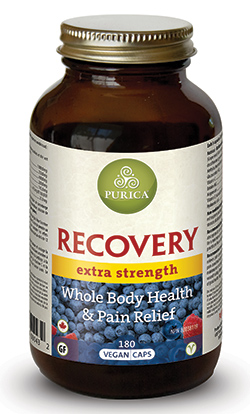 Overview
RECOVERY targets the root cause of pain, providing effective and sustained relief to people dealing with sore joints and muscles, recovering from injury or rehabbing from surgery.  Yet it is as beneficial for people wanting to avoid those aches and pains in the first place. By inhibiting cellular damage, curbing inflammation, relaxing tension and increasing the cells' ability to absorb important hormones, RECOVERY® bring results. far beyond your expectations. We like to think it defies description, although Whole Body Health & Pain Relief is a good start!
Back pain
Hip pain
Knee pain
Neck pain
Shoulder pain
Wrist pain
Injury rehabilitation
Surgery rehabilitation
Benefits
Potent pain relief, helps to halt damage
Accelerates and improves healing
Regulates inflammation and spasm throughout the body
Improves insulin sensitivity
Reported main uses
Musculoskeletal damage, pain and spasm
Soft tissue injury and pain
Breathing issues
Digestive and intestinal issue
Skin issues
The wisdom of NUTRICOL®
Increases membrane receptivity to hormones
Halts damage that initiates inflammatory reactions
Inflammation-regulating benefits
Enhances cell and tissue repair
How It Works
Researchers have found that the so-called dis-eases of aging have similar underlying factors: a decrease in cell stability leading to the release of compounds that promote damage, inflammation, spasm and pain. RECOVERY® changes the behaviour of cells that have been damaged by chronic inflammation, injury, surgery or over-training. The result? Reduced discomfort and an improved quality of life.
Click Here for Ingredients Information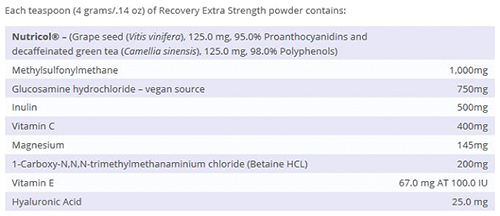 ---
Natural Factors BioCgel 500 mg High Absorption Ascorbate C (210 softgels)
Price: $25.00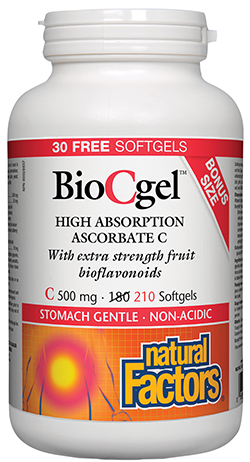 Boosts immune function to shorten the duration of colds and flus
Provides antioxidant protection to promote healthy aging
Helps maintain heart health and capillary function
Helps in the development and maintenance of bones, cartilage, teeth, and gums
Easy on sensitive stomachs
Contains a highly concentrated fruit blend and citrus bioflavonoids
Overview
Natural Factors BioCgel goes beyond "just vitamin C" to provide a high-absorption, pH-neutral calcium ascorbate that is easy on the stomach. This preferred form of vitamin C is enhanced with citrus bioflavonoids and the proprietary whole fruit blend BerryRich®, to provide the exceptional protection of natural fruit antioxidants.
Read More Advanced Information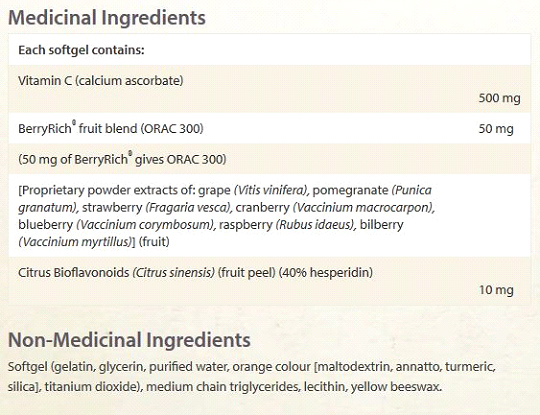 Natural Factors BioCgel High Absorption Ascorbate C is formulated with a highly absorbable form of vitamin C to help in the development and maintenance of bones, cartilage, teeth, and gums. As a non-acidic, buffered, and pH neutral ingredient, the ascorbate in BioCgel is gentle on the stomach and ideal for people who experience gastrointestinal upset from plain ascorbic acid.
BioCgel contains BerryRich, a high-ORAC, full-spectrum antioxidant blend of grape, pomegranate, strawberry, cranberry, blueberry, raspberry, and bilberry that naturally enhances the effects of vitamin C. These berries contain phytonutrients that promote healthy aging, protect cellular health, and promote cardiovascular health. The addition of citrus bioflavonoids further elevates the antioxidant protection of BioCgel to promote healthy aging and boost immune function. Standardized to 40% hesperidin, bioflavonoids not only fight oxidation, strengthen capillaries, and optimize collagen health, but are key to effective vitamin C absorption.
Each softgel delivers a combination of 500 mg of calcium ascorbate, 50 mg of BerryRich, and 10 mg of citrus bioflavonoids in a formula that is free of artificial preservatives, colours, sweeteners, dairy, wheat, and yeast. These features make BioCgel an excellent choice for anyone looking to optimize their health.
---
Natural Factors Hi Potency B Complex 50 mg (60 capsules)
Price: $12.00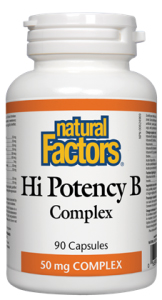 Supplementing with B vitamins is a natural way to energize the body
A factor in the maintenance of good health
Converts carbohydrates, fats, and proteins to energy
Helps in tissue formation and to form red blood cells
Overview
Natural Factors Hi Potency B Complex contains optimally balanced levels of B vitamins for a natural way to energize the body. A factor in the maintenance of good health, B vitamins convert carbohydrates, fats, and proteins to energy and help in the formation of tissues and red blood cells.
Suggested Use
Supplementing with B vitamins is a natural way to energize the body. A factor in the maintenance of good health. Converts carbohydrates, fats, and proteins to energy and helps in tissue formation and to form red blood cells.
Read More Advanced Information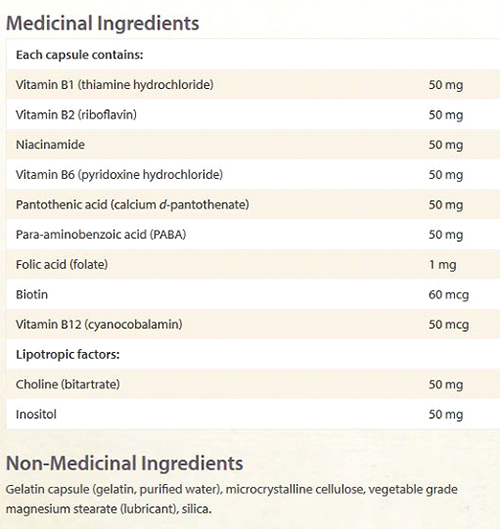 A group of water-soluble vitamins, the B vitamins help enzymes to react chemically with other substances and are involved in energy production and red blood cell formation. The B vitamins help the body metabolize carbohydrates, proteins, and fats. They also help with normal growth and development, and in tissue formation.
Stress, whether physical or mental, can cause the body to use up more nutrients, leading to deficiency and stress-related health problems. Nutritional support is needed for periods of stress, when the body usually isn't able to recover adequately.
Natural Factors Hi Potency B Compound is a balanced formula that provides 50 mg/mcg of the eight essential B vitamins plus 1 mg of folic acid. Choline and inositol, which are lipotrophic factors, assist in proper liver function and enhance the absorption of the B vitamins.
Meeting the body's needs with only one tablet per day, this supplement is ideal for general well-being, as well as for those who wish to increase their daily energy needs and improve the conversion of carbohydrates, fats, and proteins into energy. The vitamins are derived from a natural fermentation process and are suitable for vegetarians and vegans.
---
Vega One Organic All-In-One Shake French Vanilla (827 g)
Price: $55.00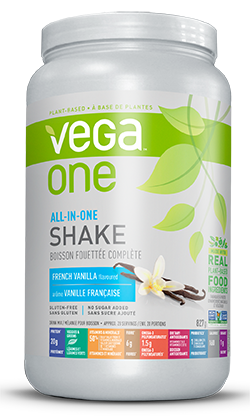 Made from carefully selected, premium, plant-based food ingredients you'd choose yourself if you had the time, Vega One has everything you want (and nothing you don't)—all in one delicious scoop.
20 grams plant-based protein
Veggies and greens
50% DV of 12 vitamins and minerals
Probiotics (1 billion CFUs bacillus coagulans)
1.5 grams Omega-3 ALA
6 grams fiber
Antioxidants vitamins A, C and E
Why you'll love it
Like a serving of "I've totally got this" in a glass, Vega One gives you the nutritional confidence to help you live
your best life—no matter how much you pack into it.
20 grams plant-based protein
Pea protein, hemp protein, Canadian flaxseeds and sacha inchi proteins combine for a complete multisource plant-based protein blend
Veggies & Greens
Proudly green, with ingredients that include organic broccoli, North American-grown organic kale, chlorella and organic spirulina
50% DV of 12 vitamins and minerals
All from real, plant-based food ingredients
Probiotics (1 billion CFUs bacillus coagulans)
Shelf-stable bacillus coagulans can survive and thrive in harsh environmental conditions, including the acidic environment of the stomach, allowing them to enter and flourish in your gut
1.5g OMEGA-3s (ALA)
Essential fatty acids from flax and hemp ingredients
Antioxidants vitamins A, C and E
6 grams fiber
No sugar added*
*Not a low-calorie food. See Nutrition Facts Panel for calorie and sugar content.
Usage:
Shake It!
Mix one serving of Vega One with 1 ½ cups (12 fl. oz.) ice-cold water, non-dairy beverage or juice for optimum deliciousness.
Blend It!
For a satisfying start to your day, blend one serving of Vega One into your favorite smoothie recipe. For blendspiration check out our Recipe Center.
Bake It!
Yes you can bake with Vega One! Swap Vega One for 1/8 to 1/4 of the flour in sweet baking recipes. Find everything from pancakes and waffles to brownies made with Vega One in our Recipe Center.
Click Here for Ingredients and Nutrition Facts
Ingredients:
PEA PROTEIN, FLAXSEED, COCOA POWDER (PROCESSED WITH ALKALI), PEA STARCH, ORGANIC ACACIA GUM, NATURAL FLAVORS, HEMP PROTEIN, SACHA INCHI PROTEIN, ORGANIC GELATINIZED MACA ROOT, ORGANIC BROCCOLI, ORGANIC SPIRULINA, ORGANIC KALE, ORGANIC MARINE ALGAE, DRIED FRUIT AND VEGETABLE BLEND (SPINACH, BROCCOLI, CARROT, BEET, TOMATO, APPLE, CRANBERRY, ORANGE, CHERRY, BLUEBERRY, STRAWBERRY, MUSHROOM), CHLORELLA VULGARIS, PAPAIN, CITRIC ACID, BEET ROOT (FOR COLOR), STEVIA LEAF EXTRACT, PROBIOTICS (BACILLUS COAGULANS), DRIED ANTIOXIDANT FRUIT BLEND (GRAPE SEED EXTRACT, ORGANIC POMEGRANATE, ACAI, MANGOSTEEN, ORGANIC GOJI, ORGANIC MAQUI)
Manufactured in a facility that also processes peanuts, dairy, soy, egg, and tree nuts.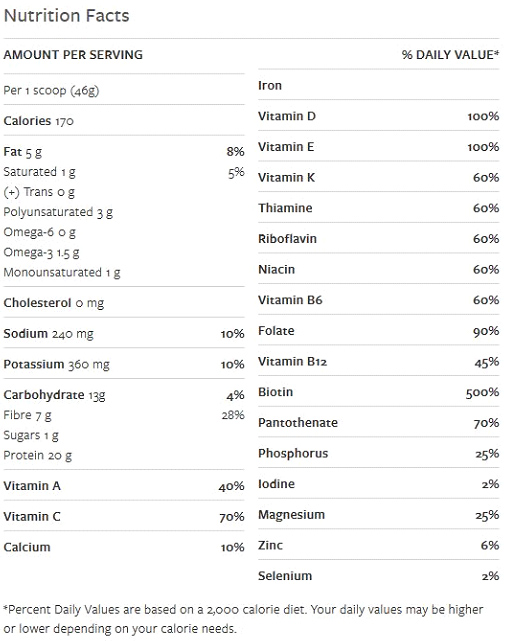 ---
Adeeva Prostate 40 Plus (60 capsules)
Price: $35.00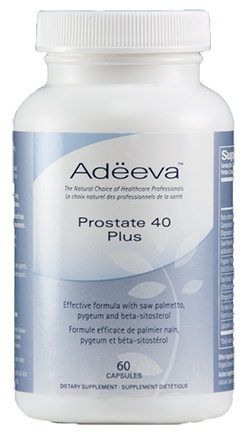 Scientific evidence suggests that men need targeted nutrient support to preserve optimal prostate health after age 40.
Here's Why:
At age 40 the prostate gland tends to speeds up the conversion of testosterone into dihydrotestosterone (DHT)
High levels of DHT cause prostate cells to replicate rapidly causing prostate enlargement and increasing the risk of other prostate diseases
In fact, from age 40 to 80, ninety percent of men eventually develop enlarged prostate symptoms and one in eight men in North America develop more serious prostate problems
Symptoms of an enlarged prostate include, decreased urine stream, urgency to urinate, but difficulty in initiating a urine stream, frequent urination, and frequent night-time urination.
Are there natural agents that can protect the prostate?
Yes, clinical studies show that a number of natural agents can block the build up of DHT, and thereby slow the rate of prostate cell division.
The optimal dosages and standardized grades of these natural agents are contained within Prostate 40 Plus, which can help prevent the build up of DHT and have been shown to reverse prostate enlargement in men with diagnosed mild to moderate enlargement problems (BPH), and protect the prostate in other ways.
Click Here for Dosage and Ingredients Information
Dosage
⦁ 1 capsule per day with food for general prostate support
⦁ 1 capsule, twice per day with food for therapeutic purposes
Active Ingredients: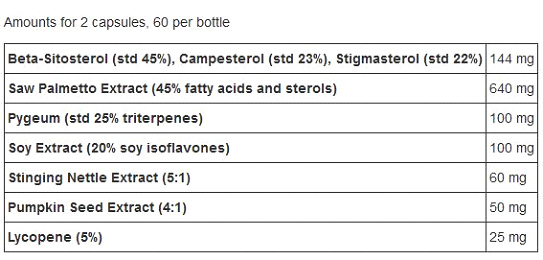 ---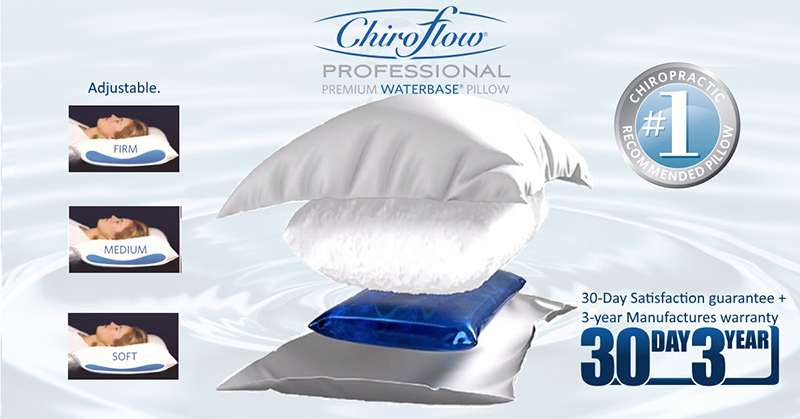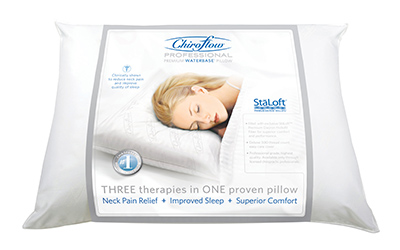 Chiroflow Water Pillow
Price: $90.00
The Chiroflow® Pillow's Waterbase® design allows users to customize their pillow to their desired level of comfort, soft, medium or firm, by simply adding and removing water. The waterbase automatically adjusts to head movement throughout the night, maintaining essential cervical support, even when you move during sleep!  No need to fluff and re-stuff.  You wake less often during night and rise in the morning more refreshed.
How does the Chiroflow® pillow work?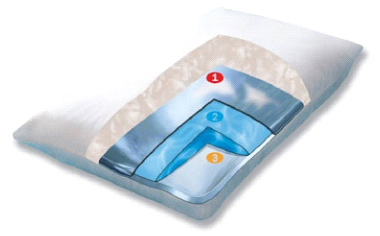 There are three essential parts of the Chiroflow Waterbase Pillow.
A deep cushion of hypoallergenic StāLoft polyester fiber rests over the waterbase layer for luxurious comfort
A thermal insulator surrounds the waterbase layer, to prevent heat loss from the head
The easy to fill waterbase automatically responds to head movement as you sleep through the night, providing proper cervical support all night long
Best Choice for Our Patients
The Chiroflow Professional Waterbase pillow is the #1 Selling Pillow in Chiropractic
A new source of wellness – improved quality of sleep will reduce signs of aging, improve coping skills and sharpen reaction time
Pillows available in Fiberfill and Gel Memory Foam
Reduced neck pain intensity – ranked best of all pillows tested in a clinical study at Johns Hopkins University Hospital
Generous jumbo size 20'x 28′ – most cervical pillows are under sized to cut costs. Chiroflow fits standard AND queen pillowcases
30 Day Satisfaction Guarantee!
3-Year warranty against defects – our quality is best and we stand behind our product with the best warranty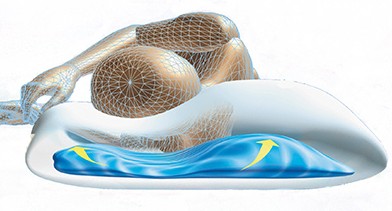 ---
Wrist Widget  *Temporarily Sold Out*
Price: $35.00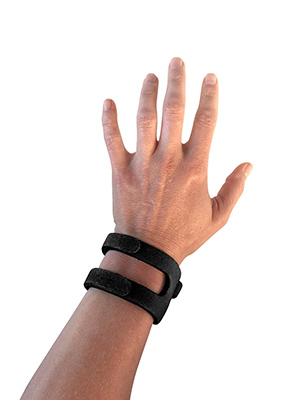 Experience pain relief with the WristWidget. If you have TFCC injuries and ulnar-sided wrist pain, the WristWidget will provide support allowing your TFCC to heal. TFCC injuries can cripple you, preventing you from completing even the most basic activities of daily living.
When you wear the WristWidget, you provide your injured wrist with targeted compression that instantly helps to relieve pain and provide the stability you need to function while you are healing. WristWidget was developed by a hand / wrist specialist and designed to target the affected TFCC area with minimal restriction to any other area.
With its two versatile Velcro straps, you can increase and decrease the compression pressure where you need it as well as when you need it.
One Size Fits Most (Improved version fits both petite and regular sized wrist!)
Each splint can fit both right and left Wrists
Decrease Pain in Grip, Weight Bearing and Rotation (supination and pronation)
The WristWidget™ is designed to treat your ulnar-sided wrist pain due to a TFCC (Triangular Fibrocartilage Complex) tear. It has been researched and now used by over 400,000 patients and 132 countries worldwide.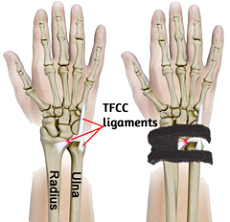 The WristWidget™ takes over for the TFCC and prevents the radius and ulna from spreading; allowing the TFCC to heal naturally and without surgery.
The Velcro closure mechanism does not interfere with wrist motion or weaken with use. It holds the wrist securely in place without irritation to the skin or wrist joint. It is made from a non-elastic material which molds comfortably around the wrist. Dual straps provide an individualized fit as wrists vary greatly in size and conformation.  There is no compression of the ulnar head, a key component to comfortable use.
This is not like any other brace on the market.  You have come to the right place to read, learn and treat your wrist pain!
Visit www.wristwidget.com for information on the TFCC/Ulnar sided treatment protocols, FAQs, and care instructions for your Wrist Widget.
---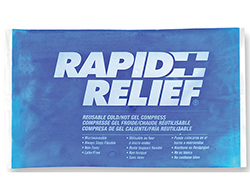 Ice Packs
Price: $7.00
Rapid Relief reusable cold/hot gel packs. Great for relieving pain and inflammation. Remain flexible even when frozen. Can also be used as a heat pack. Just warm it up in the microwave.
---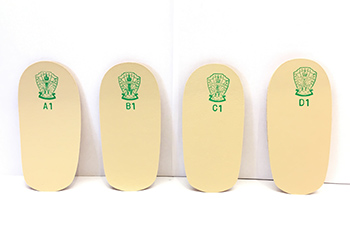 Heel Lifts
Price: $7.00
This product is great to use for people with an anatomically short leg. Made of cork. Available in many different sizes. Easy to use, just slip it into your shoe. Can be trimmed with scissors to fit your shoe.
---
DesLauriers Chiropractic Group Inc. | (604) 535-2500